UPDATE (April 2017): this project was online when the post was originally published on 31 March 2015. Since that time, the website 'round the Ridge has been archived and is only available through Wayback Machine. Margot's business has also evolved over the past decade and she recently launched Spruce design + marketing.
***
Seems it's true what they say about online content being available forever…
Many moons ago, long before China was on our radar, I was involved in a fantastic little community project. It started in late 2006, soon after the birth of my second daughter, I joined a local neighbourhood planning committee hosted by the Brisbane City Council.
The project focused on the suburb of Acacia Ridge, about 15km south of Brisbane's CBD. Through the planning committee, I met a fabulous, creative 'young mum' (to coin their phrase) who just happened to be a talented graphic designer and photographer. Together, over a period of months and with a great deal of unexpected assistance from the city council neighbourhood planning folks, Margot and I created TURF Community News.
Our goal was to raise the profile of the area and boost community spirit, to improve liveability of the region for everyone. The project was valued at $35,000 over 12 months and attracted extensive support from local government, local businesses and community organisations. We learned so much about the power of asking, raising funds, applying for and acquitting grants, printing and distribution.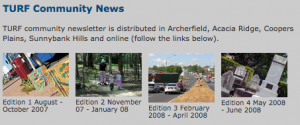 Over the course of our community publishing foray, four editions of Turf were produced and distributed to 10,000 homes and businesses in the local area (between August 2007 and June 2008). Here they are, alive and well on the internet, thanks to another community initiative called 'round the Ridge. Happy days! We achieved this with three kids under the age of five between the two of us, and another on the way.
And then I moved to China so we discontinued the project. Margot now lives in New Zealand in a funky little community just north of Christchurch. She's one of those friends who makes a life-changing impact in a short space of time; I love her to bits!